The first day of spring was officially Sunday -- but I wondered. We've had far too many sunny days followed by blizzards lately. Could I really trust this warmth, and urge to dig in the dirt?
Should have known -- by sundown, storm clouds were moving in, and the temperature dropping. Maybe tomorrow; the spinach still needs to get planted. Meanwhile, a trayful of 'heirloom' tomatoes is happily growing in the laundry room's sunny spot. And:
S'mores on a stick.
..easy to make
.
Wouldn't these look great in an Easter basket? How-tos, thanks to
Cleverly Inspired
.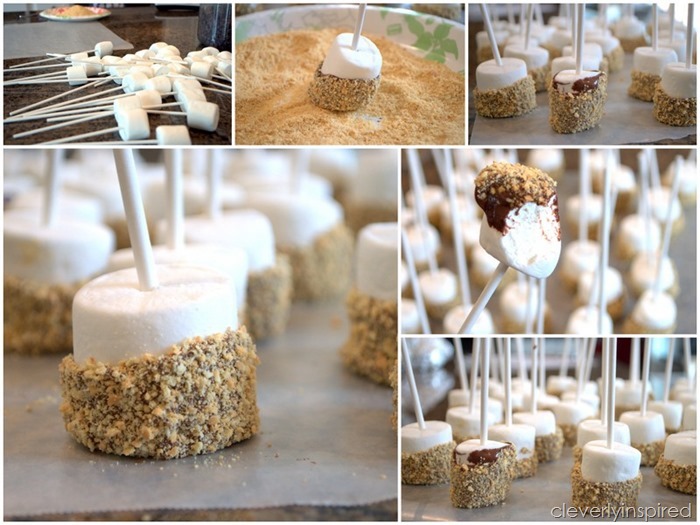 'Spring Break and My Misspent Youth.'
So says
Monster Piggy Bank
. I never got to do this -- no money, for one thing, and I worked all day, every day but Thursday and Sunday, at the local hardware store during Spring Break. Based on MPB's sad tale, I didn't miss much.
What did you do during your Spring Breaks -- play or work?
Places to hide things in your house...including a very cool lettuce 'safe!'
Thanks
,
Apartment Therapy.
A do-it-yourself overhead projector...from a cardboard box??
Yes, thanks to
Cleverly Inspired.
This is so easy that I wonder why anyone would buy one. Seriously.
Everybody has a lonely experience. The Pennington Point's 'difficult weekend'
just points up the need for friendliness and a welcoming attitude. If we all took this approach...wow!
Donna Freedman's in love...and sharing chores
.
This contented post is written in the warm, open style I enjoy so much of Donna's work. You will, too. (Her
10 Financial Lessons from the Iditarod
is also a winner.)
Myths about St. Patrick's Day.
Did you know, for example, that the 'Irish' saint (a Scot by birth) is actually associated with blue, much more than green? A post by yours truly over at
Penny Thots
. Take a look at the author's page, while you're there, for more of my work. (There's lots of it this month.)
A mudroom bench from an old discarded dresser??
Yep, thanks to The
Weekend Country Girl's
picture-by-picture instructions. This was easier than it looks. (
How-tos are here
.)
Homegrown spinach - from the freezer,
courtesy of
Our Life in the Country.
Using your rock collection to advantage in your garden.
Both Daughter #2 and I love rocks, and have been picking them up for years, to the accompanying moans of the Brick. (He particularly hates when one of us yells, "Quick, stop the car -- I just saw a great rock on the side of the road!")
Dealing with the 'God will never give you more than you can handle' phrase.
Although I'm not sure I agree with the writer that this is a
lie
, I do believe that hard times literally drive us to God -- because there is nowhere else we can go for help and comfort.
This has been a rough few weeks: good friends lost a 3-year-old granddaughter, Carlie, to sickness, and we lost a cousin to cancer. Jeannette was only 61, and one of the kindest, most gracious people I knew. Why did these happen? Only God knows. Does He care about us, even now? I'm sure of it. Can we trust Him? Sometimes He is the only one we can...
Have a good week.