This is just an amazing story:
Richard III, Duke of Gloucester and the last of the Plantagenet kings, killed in battle in 1485, was found underneath a parking lot in Leicester, England.
The earliest surviving portrait of Richard III, c.1520
This is the much-hated king who began as Royal Protector for his nephews --
12-year-old King Edward V,
and his brother. The boys were kept in the Tower of London, and eventually disappeared -- more than one contemporary believed that Richard had them murdered. (Juvenile bones were found underneath a staircase in 1674. Could they have been the boys?)
Richard only had two years as king, and was forced to put down several rebellions. He eventually was killed in the Battle of Bosworth Field, and Henry, the first in a long line of Tudor monarchs (many of them Henrys, as well), succeeded him.
And yes, Shakespeare wrote a play about him that made Richard out to be an evil villain.
(Granted, the reigning monarch at the time was Elizabeth, Henry VIII's daughter.)
His bones were actually discovered
the first hour of the first day
archeologists began searching, while the earthmover was still digging asphalt off the lot. ("It's like Richard III
wanted
to be found," says one person.) Historians, including some in the Richard III Society, pinpointed the lot as the original site of Grey Friars church. (
More on that in a minute
.)
The skeleton found had a twisted spine, sypomatic of scoliosis -- Richard was known to have been bent over, making him several inches shorter than his real height of 5' 8". Sounds short to us, but that was considered tall in medieval England. Shakespeare's Richard is portrayed as everything from a hunchback to a man with a deformed shoulder to someone who just looks Not Very Nice. (
Hmmm
.)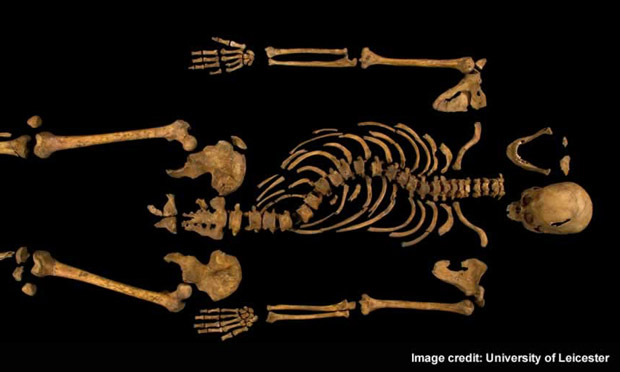 Wounds on the skeleton were consistent with accounts saying that Richard had been killed on foot in close battle in Bosworth Field, then his body stripped and mutilated during a savage victory procession. (
The winners of the battle, by the way, were French soldiers brought to England by Henry Tudor, who argued he should be King -- and basically proved it by force.)
The reconstruction of the skull's face showed a man remarkably similar to the best-known portrait of Richard, thought to have been copied from a painting done directly from him. (See portrait above)
And finally, the
DNA was consistent with that of Michael Ibsen
, a direct descendant of Richard's eldest sister, Anne of York.(The body was found in 2012, but they just confirmed the DNA connection recently.)
Yow!
After its ignominious trip, one tradition had it that Richard's body was taken by monks at the Grey Friars church, and hastily buried with little pomp, but in a place of honor near the high altar. When the monastery was dissolved in 1530, legend had it that the church (and Richard's tomb) were razed, and Richard's bones thrown into the river. A mansion was built on the site of the church, with large gardens -- Sir Christopher Wren recorded visiting there in 1611, and seeing a large stone pillar inscribed, "Here lies Richard III, sometime king of England." Eventually, several buildings were built on the site, including a prep school used for, in turn, girls and boys. (Richard's body was found underneath the former playground, which had become a parking lot in recent years.) Today it's the offices for the city council.
(More on all this here, in case you're interested.)
Members of the Richard III Society have been campaigning for the expedition, but had trouble raising enough funds to begin. The body, by the way, was found, as near as the diggers can figure, in that exact spot, near the altar of the original church.
Said the Brick, "When they demolished the church, why didn't they move the body?" Maybe people had forgotten...or were frightened.The reigning kings, after all, were still of Henry's line.
Now construction has begun for a new tomb, with a reinterment ceremony scheduled soon.