Are you thinking of cooking Irish for St. Patrick's Day tomorrow?
Here's one idea, from the
Holiday Goodies blog: Potato Farls
Warm and filling... these potato scones make good use of leftover mashed potatoes. The basic recipe asks for just potato, flour, butter, salt and pepper -- but I like to add some finely chopped onion, as well. (The word, by the way, comes from the Gaelic
fardel
-- or 'fourths.')

Serve underneath a fried egg, and with a pot of tea, for a substantial breakfast.
POTATO FARLS
1 1/2 - 2 cups mashed potatoes (warm in the microwave for 1-2 min. for best results)
1/2 cup flour
4 tablespoons butter
1 teaspoon each salt and pepper
1-2 chopped green onions (or 1/4 cup finely chopped white onion)
Mix all together to make a soft dough. (If it feels sticky, add a bit more flour.) Press out by hand into a rough-shaped circle, then cut into quartered wedges. Carefully transfer to a hot ungreased frying pan -- cook for 3-4 min. on one side, then flip and cook 3 more min. Keep warm in the oven while you fry the eggs.
(Preferably pulled warm from underneath your chicken friends, down in the coop)
From the Guardian article about the subject:
Farls are most often served with a cooked breakfast or at teatime...at breakfast, try them topped with crisp bacon or served instead of fried bread...at tea time they are best served simply, with just butter and salt, but they are good too with dollop of jam.
At lunch or supper they go particularly well with smoked fish, grated beetroot salad and horseradish cream. Jane Baxter (my collaborator on this column) like them with butter and melted cheese, but she is a bad woman...
!!!
(Here's
AllRecipe's take on potato farls.)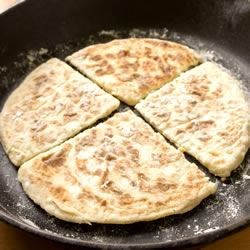 We'll be featuring Irish goodies all week on the 'Holiday Goodies' blog --
go here for more recipes and ideas,
including Irish Cream Cake, Burnt Oranges (really!) and Dublin Coddle.