It's tough, entertaining a crowd --
and when your budget is tight, it's even more difficult.
Thank goodness there are tricks you can use, that give an air of Gracious Living while still stretching your cash. One interesting idea?
Homemade bread
, especially when it's served steaming out of the oven, with butter and homemade jam close at hand.
(So many people do NOT make their own bread anymore, that it's grown to be a luxury. If your time is tight, buy bread dough -- or try your favorite bread recipe and stash it uncooked in your freezer. Thaw before baking.)
My secret weapon: roast chicken, especially when done bistro-style.
ROAST POULET
1 whole chicken (get the largest one possible)
olive oil
garlic salt/crumbled/whatever
assorted herbs
(marjoram and oregano for a start -- add rosemary and sage, or just use 'Herbes de Provence')
1 lemon, cut in quarters
Rub chicken with olive oil, then sprinkle heavily with garlic and herbs. Pop in the lemon, plus sprigs of rosemary and sage, if you've got them. Bake at 400 degrees for at least 1 1/2 hours, until breast skin is brown. Check for doneness by plunging a knife into the leg, or breast meat -- juice should run clear, not red.
Serves 4-8 people.
This is delicious with mashed potatoes. (Use the juices in the pan to make gravy, if you go that route.) Even easier, though, is serving it Mexican-style --
*Carve chicken into smaller slices, and leave it in the roasting pan
Serve with flour tortillas, bowls of grated cheese, lettuce, cut-up limes and the best fresh salsa you can get your hands on. (Have plenty of napkins handy.)
I've had this at several parties, and it is always a big hit.
Other ideas:
*
Light candles.
For one thing, they hide the fact that it got too zany for you to sweep. Or dust. For another, they give a soft glow that's particularly appealing while you're sitting around after dessert.
*Add music
. A mix preferably, but keep it low. No driving rock or classics -- Beethoven's Fifth will have to wait for another occasion.
*Start with soup.
A thick, heavy soup full of potatoes, rice or veggies. Cream soups are especially effective. (Mushroom soup or clam chowder are special favorites around here.)
It makes your meal look "fahncy," but best of all, keeps guests full enough that they don't scarf down the more expensive protein entree you're serving.
Yes, homemade bread or rolls are the perfect add-on to this.
Or think about a
starting plate of appetizers.
Frugal possibilities include:
*Sliced vegetables (
crudites
, or "crew-di-tays," if you want to get snooty about it) --
whatever's in season, accompanied by ranch dressing
*thin crackers or hard bread, thinly spread with mayonnaise, topped with a thin slice of onion, and baked until sizzling (James Beard swore by this simple appetizer -- it became his company's trademark dish)
*wonton or eggroll skins -- filled with chopped veggies, grated cheese, single shrimps or even a chunk of hot dog -- or a combination, baked until sizzling (Grease the pan, or they'll stick)
Add these easy
proscuitto and cheese appetizers
. Yum. (Thanks,
Cleverly Inspired.)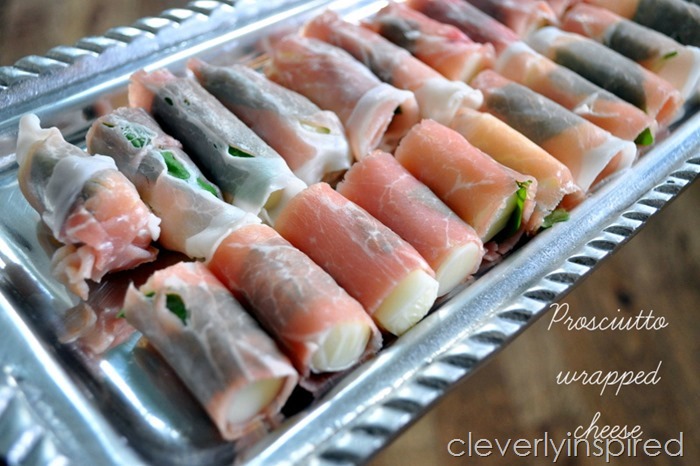 Add a scoop of frozen yogurt, sherbet or ice cream (from the big gallon containers, but you don't have to tell your guests that), set out a platter of larger-sized cookies or brownies, and put the coffeepot on.
You'll have made your guests very happy.