Family history says that Belle Abram made this quilt in England; she started about 1797, and finished in 1808. (Notice the "BA" and "1808" notations on the piece?) The medallion style (
building, border by border, around a central medallion area)
was very popular with British quiltmakers.
Eventually the quilt came with its family to America, and was passed down from generation to generation. It lives at the International Quilt Study Center now -- a wonderful place whose collection ranges not only for hundreds of years...but all over the world. Robert and Ardis James' funds and donations were instrumental in helping the museum. But it's also been the donations of money, time and energy of people like us that have helped IQSC continue to grow.
This quilt was featured on the "Quilt-of-the-Month" for March. You can learn more about this piece, and sign up for a "quilt of the month" to be delivered to your e-mail inbox
by going here.
Enjoy...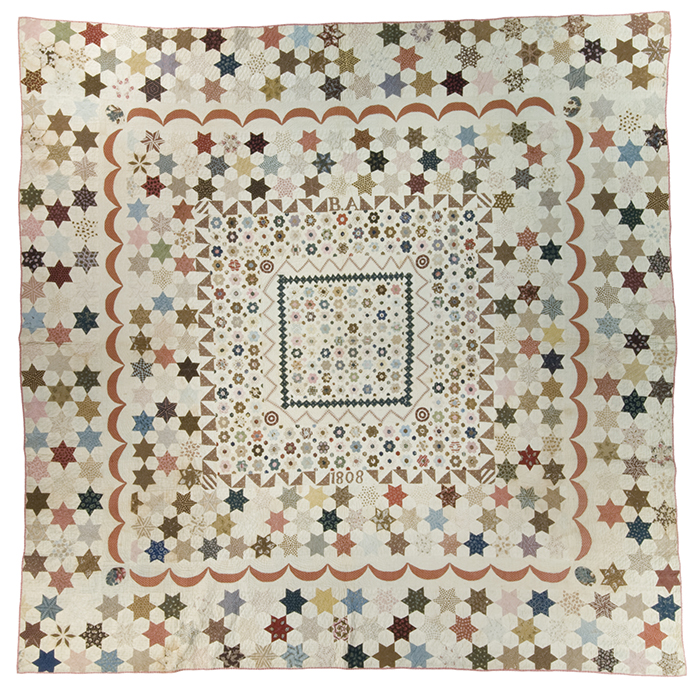 Notice the square size? Very typical for pre-1850s quilts...although this one is on the small size. Often these are much larger.
Made by Belle Abram
Probably made in England, 1799-1808
87 x 87 inches/218 x 221 centimeters
IQSCM 2007.028.0001
Gift of Nancy Harris